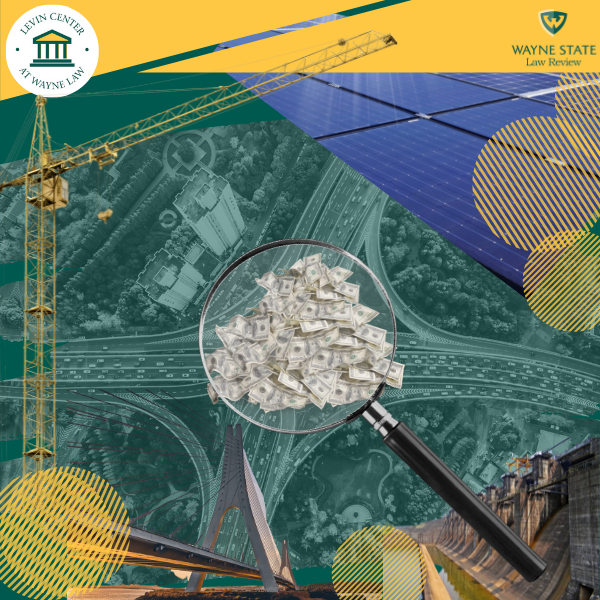 The Levin Center at Wayne Law and the Wayne Law Review
warmly invite you to:
Oversight, Infrastructure, and Federalism: Ensuring Transparency, Accountability, and Effectiveness of U.S. Infrastructure Investments
March 25, 2022 / 10.00 a.m. – 3.30 p.m. EST
2022 Oversight Symposium
The Infrastructure Investment and Jobs Act of 2021 is poised to send billions of taxpayer dollars from the nation's capital through the states to local communities to improve our roads, bridges, dams, broadband networks, electric vehicle charging stations, mass transit systems, and more. To ensure the success of these historic infrastructure investments, action must be taken to prevent waste, fraud and abuse, and ensure the law lives up to its promise.
On March 25, 2022, the Levin Center and Wayne State University Law Review will present a one-day online symposium focused on meeting our infrastructure investment challenges and opportunities. Join us in hearing from a diverse group of experts, including academics, oversight practitioners, and affected communities, on steps that can be taken to safeguard our infrastructure investments.
Opening remarks will be at 10:00 a.m. by Keynote Speaker U.S. Senator Gary Peters (D-MI).
Beth Osborne, Director – Transport for America will moderate a panel discussion on Establishing Mechanisms for Oversight of Infrastructure at 10:15 a.m. Panelists will be:
Shruti Shah, President & CEO, Coalition for Integrity
Lawrence Goldenhersh, President – Center for Sustainable Energy
Alexander Beckmann, Senior Policy Advisor on Transportation and Infrastructure Issues – Congressman Jesús "Chuy" García (D-IL)
Portia Bamiduro, Technical Adviser to Senior Vice President – Global Corporate Affairs, Amazon will moderate a panel discussion on Exercising Oversight of Infrastructure Performance at 2:00 p.m. Panelists will be:
Elizabeth Repko, Director for Physical Infrastructure – GAO
Andrew Doctoroff, Michigan Lead – Gordie Howe International Bridge Project & Adjunct Professor – University of Michigan Law School
Joe Colaianne, General Counsel – Four Lakes Task Force
John Sylvia, Director Performance Evaluation & Research Division – West Virginia State Legislature
More information about the Levin Center at Wayne Law and panelists biographies are available here: https://www.levin-center.org/levin-center-at-work/2022-wayne-law-review-oversight-symposium/